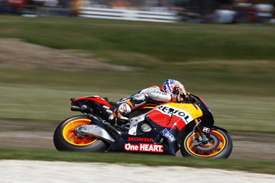 Casey Stoner wrapped up his second MotoGP World Championship title by winning the Australian Grand Prix for a fifth successive year.
With his only title rival Jorge Lorenzo unable to start following the injuries he sustained in his warm-up crash, Stoner knew he only had to finish sixth to put the championship beyond the Spaniard's reach.
However, from pole position, the Honda rider had no intention of merely riding for points. He built a four-second lead by lap four and was in a class of his own all afternoon.
Stoner's ninth win of the year – which came on his 26th birthday – gave him his first championship since 2007 and also marked Honda's first riders' title of the 800cc era.
Behind him, Nicky Hayden made a rocket start from row three to move into second place by the first corner, but the Ducati rider was powerless to keep the Honda onslaught behind him.
First Marco Simoncelli came by on his Gresini Honda, and then factory riders Andrea Dovizioso and Dani Pedrosa, plus Suzuki's Alvaro Bautista, shoved him back to sixth within the first handful of laps.
Simoncelli pulled clear of Hayden and looked set for an easy second place, but was too cautious when rain began to fall with three laps to go and allowed Dovizioso to get by at Turn 12.
Undeterred, the Gresini rider boldly barged his way past his countryman into Honda corner on the final lap to steal second and take the best finish of his MotoGP career.
Pedrosa, who had been right in the fight with Dovizioso, was another to back off in the rain and had to settle for fourth.
Bautista was on course for fifth, but crashed when the rain came, as did Cal Crutchlow (Tech 3 Yamaha), Hiroshi Aoyama (Gresini) and Karel Abraham (Cardion AB Ducati).
With Hayden and Pramac Ducati rider Loris Capirossi pitting to switch to their wet bikes, Colin Edwards brought his Tech 3 Yamaha up to fifth by the flag, ahead of Randy de Puniet, who recovered from running on at Honda corner earlier in the race to take a season's best result on his Pramac Ducati.
Hayden was seventh, ahead of the LCR Honda of Toni Elias – the Spaniard claiming his best result of the year – and Capirossi.
Valentino Rossi crashed out at mid-distance, losing the front end of his Ducati after too hot a passing move on Bautista at MG.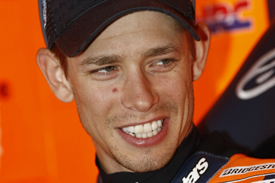 Casey Stoner praised his Honda team for "an amazing season," after his Australian Grand Prix victory made him MotoGP world champion for the second time.
Stoner, whose win was his fifth in successive years at Phillip Island, knew that a top six finish would give him the title, following rival Jorge Lorenzo's withdrawal from the race through injury.
But instead he rode into an instant lead from pole position and pulled away steadily from Marco Simoncelli; a brief rainshower with a few laps to go failing to halt his progress.
"I don't think I can fit too many more things in today," said Stoner. "It's my second title, my fifth win [at Phillip Island] and my [26th] birthday too. Home grand prix… Everything. To win like this is something special. I don't think people can align things to fit in like that.
"It's been a dream season really. We've had a few ups and downs, but the downs haven't been that far down and the ups have been a long way up, so a big thanks for team and everyone that's done such an amazing job."
Stoner said he was fearful of crashing – as so many others did – when the rain hit near the end, but remained flawless as he cruised to his ninth win of 2011 and the 32nd of his top level grand prix career.
"This weekend has been amazing. Everything went almost perfectly," he added. "The race threw a few curved balls in. Being in the lead, I was the one having to test all the conditions first, and you're never quite sure what's going to happen there.
"It wasn't the way I wanted to do the race. I hoped it would go a lot more smoothly, but we managed to bring it home for the win. Words can't describe how I'm feeling right now."
Pos Rider Team Time 
 1.  Casey Stoner           Repsol Honda Team            42m02.425s
 2.  Marco Simoncelli       San Carlo Honda Gresini        + 2.210
 3.  Andrea Dovizioso       Repsol Honda Team              + 2.454
 4.  Dani Pedrosa           Repsol Honda Team              + 13.160
 5.  Colin Edwards          Monster Yamaha Tech 3          + 30.886
 6.  Randy De Puniet        Pramac Racing Team             + 48.800
 7.  Nicky Hayden           Ducati Team                    + 1:16.314
 8.  Toni Elias             LCR Honda MotoGP               + 1 lap
 9.  Loris Capirossi        Pramac Racing Team             + 1 lap
10.  Karel Abraham          Cardion AB Motoracing          + 2 laps

Retirements:

 Rider Team Laps
    Alvaro Bautista        Rizla Suzuki MotoGP             4 laps
    Hiroshi Aoyama         San Carlo Honda Gresini         4 laps
    Cal Crutchlow          Monster Yamaha Tech 3           4 laps
    Valentino Rossi        Ducati Team                     14 laps
AUTOSPORT