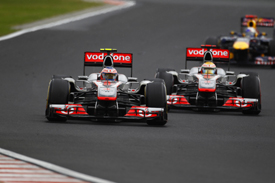 McLaren's 2012 championship hopes depend on the its ability to design a car which proves quick from the outset, according to team chiefs.
Struggles in pre-season testing this year highlighted a clear disparity between McLaren's MP4-26 and Red Bull's RB7, although McLaren has been able to steadily reduce their deficit as the season has progressed.
And both team principal Martin Whitmarsh and McLaren Racing managing director Jonathan Neale (pictured) believe that being fast out of the blocks next year will be crucial to the outfit's challenge.
"We need to start next year quick," Neale said. "We're showing that we can outdevelop and stay close to everybody. We've consistently won races, we're consistently on the podium, but we don't win championships enough and that's a frustration.
"We love winning races, but we want to win some more championships. We've got to get out of the blocks."
Only around six per cent of this year's car will be carried across to McLaren's 2012 challenger, which Neale hopes will match the expectations of Jenson Button and Lewis Hamilton.
"We do a new car every year despite the fact there's a constantly changing set of regulations," Neale said.
"The carry over that we expect from the car that won on Sunday to the first test car on February 1 will be around six per cent, or something like that.
"So we're running a high-speed research and development organisation, but it's up to us to give something the drivers can really get hold of and exploit.
"And I think Lewis and Jenson, as back-to-back word champions, deserve the best. So that's a clear target."
Whitmarsh echoed the sentiments, saying that the entire team was involved in trying to produce a championship-winning car in 2012.
"It really is a team effort," he said. "There are hundreds of people here who enjoy these victories and contribute to them.
"Great drivers need great cars and that's what we are here to develop and supply for them."
AUTOSPORT