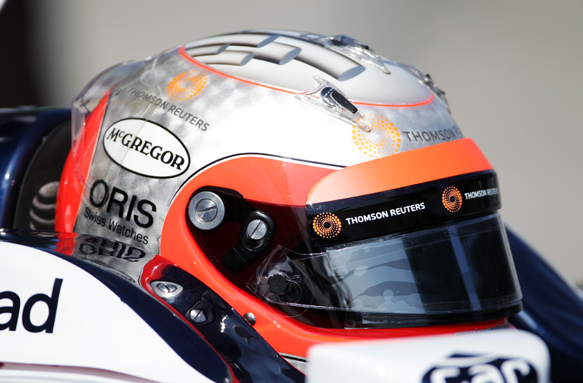 It's Macau Grand Prix time, or, in other words, it's 19 years since Rubens Barrichello, after a season in Formula 3000, returned to Formula 3 for a one-off. He'd just been confirmed as a Jordan Formula 1 driver for 1993 and, aged just 20, he was like a little fresh-faced puppy as he looked forward to joining the big time the following season.
Other guys who competed at Macau that year and later made it to F1 – notably David Coulthard and Jacques Villeneuve – have long since moved on. But, nearly two decades after his debut, Barrichello is still competing at the top level of the sport, and for the past few seasons he has gradually been extending his record for the highest number of starts.
Next weekend in Brazil, Barrichello will start his 322nd world championship grand prix. But will his home race also be the last of an illustrious career? It's certainly a strong possibility, given that he currently has no contract for next season.
It's no secret that Williams is talking to Kimi Raikkonen. Even if that deal doesn't come off, other drivers – notably Adrian Sutil – are of interest to the team. But Barrichello is still there and available, should he be required. And the Brazilian, who manages his own business affairs, has also been talking to other teams up and down the pitlane. There may be few obvious vacancies, but he remains convinced that, one way or another, he will still be on the grid in 2012.
"I haven't thought about anything else," he insists. "I'm just going to be driving next year. When you put something so positively in your mind, then the rest is the rest."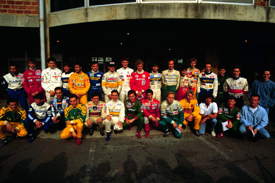 The line-up for Macau 1992. Can you spot a young Barrichello? © LAT
His chances have not been helped by the Williams team's dismal 2011 form. Barrichello has just a pair of ninth places, from high-attrition races in Monaco and Canada, to his name. Elsewhere he's been fighting for 12th and 13th, and has often finished even lower than that. It's not what you need when people are inevitably starting to ask questions about your capabilities.
"The car is not fast enough and we had troubles, and that's a big penalty this year compared to last year," he explains. "Last year also we didn't start so well, but the team progressed really nicely, and stuck together and developed the car in the way I thought we should. And we were able to improve the car.
"This year with the departure of [former Williams technical director] Sam [Michael] it made the team a bit more vague in the areas of development. It was almost like individuals, from aero and mechanical parts and everything. They were trying to actually make it better, but the communication made it terrible. I spent most of my time figuring out who I should call, who I should talk to, to say what I think about the development of the car.
"So the team lost out big-time from that mess. Sam was trying to work on it, but it just wasn't together. You could see it was two teams going forward. This year we never really got the benefit."
It all seemed so promising back in February, when the FW33 – which features a remarkably compact transmission – first appeared. So what went wrong with the car?
"The gearbox has been the least of our problems!" says Barrichello. "If you look at it, the concept is quite good. But the details of other stuff never really paid off.
"At the beginning of the testing we didn't have a very well-balanced car, but we were able to do things with it. We ran a much lower ride height than last year, and we were able to get the benefits from it. And all of a sudden we kept on breaking the floor, and they kept saying, 'We can fix it, we can fix it.'
"By the time we got to the first race, that was never fixed, so we had to raise the car a great amount, and then we lost so much. By the time the car was fixed, the other teams had made a huge development on other stuff. So we were never able to conquer that. You can see the likes of Toro Rosso this year – they got a much better car towards the end of the season, which was our case last year.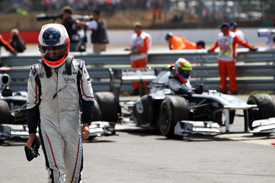 Barrichello refuses to walk away from F1… © sutton-images.com
"The car has some good things, but the bad ones are actually outweighing the good. The driveability is not good – it's killing the rear tyres. And then with the KERS situation we're killing the rear tyres too, so it's a bit of a difficult one."
Nevertheless, Barrichello is happy with his own performances.
"Every race I can kind of have fun, even though I'm racing 12th or 13th. In Korea for example I was flat-out to the end, I had a better tyre choice than [Bruno] Senna and [Sergio] Perez, and I was able just to catch and overtake them. My laps in most qualifying sessions are like pole position laps, but I'm putting put the car in 12th or 13th. It's been down from the point of view of TV viewers not looking into that, but on my side I've been going home really happy."
The problem is that it's not just TV viewers who don't see what's going on outside the top 10; neither do the people Barrichello has to impress. Few paid much attention to his charge from the back row to 12th at the Abu Dhabi Grand Prix.
"But that's F1. Most of my 20 years in F1 it's been like that; outside the top 10 you're almost not showing your potential. So when you go to talk to the big teams they don't know if you're doing a good job or not, because you can only compare yourself to your team-mate."
So has 2011 been the worst of his 19 F1 seasons to date?
"Well, it's pretty close to that Honda car [from 2008]! It's been tough. I signed for Williams after Brawn because the team really has the attitude, and you see in the eyes of Frank Williams that he wants to do it, and he conquered me with that. Unfortunately, I've never driven a good Williams car – yet.
"It's been very disappointing. There are a lot of things in the middle that don't complete the picture for everyone. As a driver it's not such a big deal, because you learn with time that you have what you have, you've got to be happy with what you're doing.
"I have four points in the championship, which is horrible, but that's what the car can do. I know my limitations and I know that I'm only not there [at the front] because the car is not permitting me."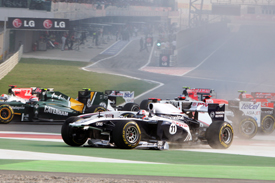 …despite a frustrating season with Williams © sutton-images.com
Given that he has to convince Williams or others that he can still get the job done, the timing of such a poor season is unfortunate.
"It's bad for young drivers to be honest. I've done what I've done. You can have experience, which means nothing if you don't have the attitude and the good feeling, the motivation. So I have the speed and the motivation. The experience comes gratis.
"You see the likes of Renault for example – they had drivers that I don't know if they were really motivated, and they lack experience. You have some good speed in Bruno and so on, but they don't have experience, so how are they going to make the team go forward?
"Even [Vitaly] Petrov in his second year – that means nothing compared to experience. On that my value is still very high. I just have to keep on doing what I'm doing. Plus I'm only doing this because of the fun side anyway; if it was for anything else I would have quit. Anything else really, the politics and the other side, I would have quit a long time ago."
For now, he just has to wait for a signal from Frank Williams that he may still be required. And he is prepared to wait.
"If you think that next year is my 20th year in F1, and I'm going to be 40 years old – it's really a number. But I'm not just in F1 to make up the numbers, I want to be there if we have something very, very good. All I want to show the team is that I have a lot of motivation and a lot of eagerness to win. Just give me a car and, just like the Brawn times, I'll be able to perform. That's pretty much it. I just feel that I deserve to be there, and I will be there if everything opens up in front of me."
The sentiments are laudable, but it's hard to ignore the momentum behind Raikkonen, especially when Sir Frank himself – speaking to Finnish TV – has started to sing the 2007 world champion's praises. Barrichello is not too worried.
"We hear about other drivers all the time. In the Honda times I heard that Bruno Senna had been signed [for 2009] about 29 times! But that's not really what the team told me, and I believed that, and I was cool.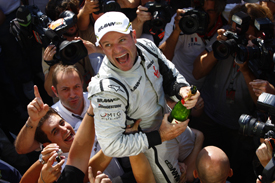 Barrichello was winning as recently as 2009 with Brawn © LAT
"I'm always positive, and I'm going to work very, very hard to get into a competitive car for next year. I don't really mind where destiny takes me. If destiny takes me to drive, I will be driving next year, because it's going to be a great fun year with the numbers that I have.
"However, not to detract from any of the teams, but I wouldn't do another year in any car just to say I've done 20 years. I'd rather call it a day."
One scenario is that, much like Nick Heidfeld last year, Barrichello could head into the winter as the man to call if a seat unexpectedly becomes available. He certainly has no plans to look at another category: "Sure. I won't be driving anything else apart from F1 next year."
So what about that remarkable career? How does he feel when he arrives at the track on a Thursday, compared to back in 1993?
"I think it's got better. I can use the good vibes and the good energy for the main purpose of the weekend. You used to get sad about things when you got to the track – some bad news, or the team didn't bring this and that. That stuff, you didn't feel comfortable about. With experience you just end up being in the right place at the right time.
"I'm a much better driver. It's mind management; it's physical condition; it's a lot of other stuff. I think the driving has got better because you're just relaxed. It's something that Jackie Stewart always told me – at the next level you feel your arms are relaxed and you're still taking more speed out of the car, and that's really the point."
It's easy to forget that just two years ago Barrichello was still winning races with Brawn. He says nothing has changed on his side.
"There are different limits on what you can do, and what you can do in your mind. You've really got to believe that you can put up a really good thing for yourself. My car is not capable of winning. But the day that I wake up thinking that I can't win is the day that I stay at home.
"For me it's something so special to be driving the car, behind the steering wheel, and the effort that I put in, the love that I have for that speed. At the end of the day if you really know that you push everything you have, that's where you feel the benefit."
Nevertheless, whether it be this winter or the next, at some point Barrichello will have to stop. And when he does, it will be arguably harder for him to wind down than any driver in history, given his tenure at the top – in effect half his life has been spent driving F1 cars.
"I don't know how it's going to be. I'm scared to think that it's going to be truly hard! There is one very nice thing – that I'm going to be home with the kids all the time, but apart from that it's going to be really hard. I'm pretty sure that whenever I stop, I'll stop at the right time. My boys are six and 10. Maybe a good time is when they are seven and 11!"
AUTOSPORT